Branding
How to use brand archetypes to finish off your brand strategy
The famous psychologist Carl Jung once wrote that people use symbolism to make complex concepts easier to understand. He spoke of forms and images of a collective nature that occur practically everywhere as components of myths and, at the same time, as individual products of the unconscious.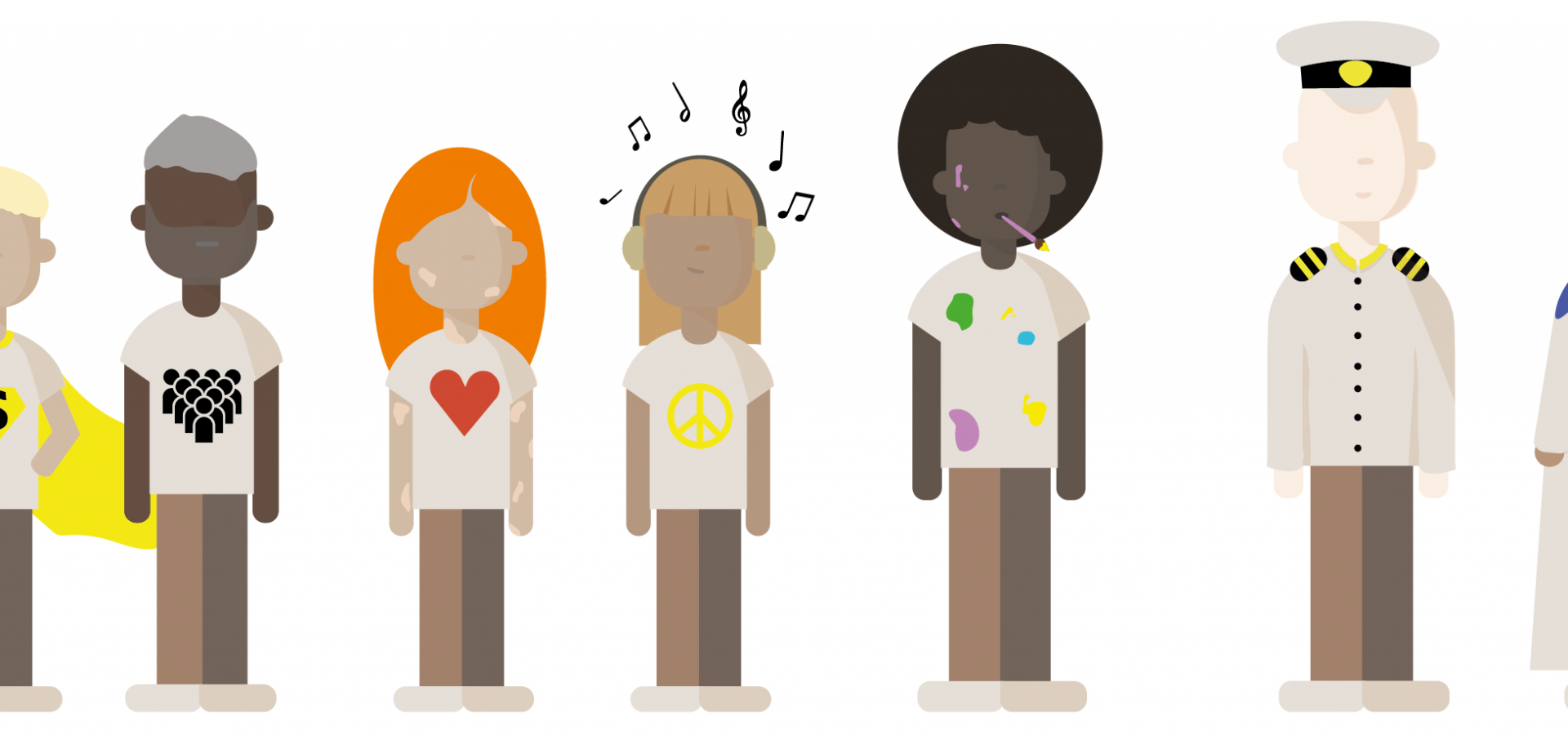 Applied to people, he created archetypes that can define customer audiences for companies. These archetypes are unknowingly imprinted and ingrained in our psyche.
When used properly, they better reflect the brand and match the personality type with your different customer personas. It is something universal that is particularly effective as an orientation tool for brands.
There are 12 brand archetypes: The Innocent, Everyman, Hero, Outlaw, Explorer, Creator, Ruler, Magician, Lover, Caregiver, Jester, and Sage.
Let's go over them together to give you an overview of which is which. But first, let's dive into the importance of the archetypes and how to use them to your advantage.
The importance of brand archetypes
The 12 brand archetypes are all recognisable and different. Just like the archetypes, we are all different, so it is logical that certain archetypes will appeal to you more than others.
Not everyone is looking for risks or the thrill of new experiences and thus links a lot to a brand like Jeep or Red Bull (The Explorer archetype).
The question is, how can companies learn to use brand archetypes to their advantage?
It is only when you align your brand personality with one of these archetypes that you can bring your brand more in the direction of your customer. You're going to communicate more consistently and, because you also know who your examples are among the big brands, you'll have examples to look up to.
83% of customers want more human interaction, they want to feel humanly connected to a brand.
Although it is often said that you can only link your brand to one archetype, we believe that this is not necessarily so.
Brands that pass through Digital Leap have quite a bit of 75 or 80% of one archetype and 20 or 25% of another archetype that they naturally radiate. It is just important that, once determined, you apply this consistently to all your internal (yes, very important) and external communications.
As you will see some brands, like Disney for example, have a really clear brand archetype while others can be found swirling around in 2 or sometimes even 3 brand archetypes. Sometimes it's because they don't have a clear vision, or they just relate to a few. Other times it's because they also need to use others content to market themselves, like Netflix. Making it really hard to actually have an archetype to be linked to based on visuals alone.
The different archetypes in your brand strategy
Below we will give some brand archetypes examples with the explanation of the archetype itself and some examples of brands that perfectly link up with their branding.
The 12 brand archetypes below each represent a target audience, read through them and see with whom you would actually line up your brand. With who do you share a target audiences or do you perhaps have the same values as a specific brand of archetype?
The Magician brand archetype
This magician archetype is for brands that want to create something special and make dreams come true. They are seen as both visionary and spiritual.
The customers you will serve should feel that there is something mysterious about your brand. That you are some kind of source of secret knowledge.
Make your ads and visuals inspiring and show how your brand can make dreams come true.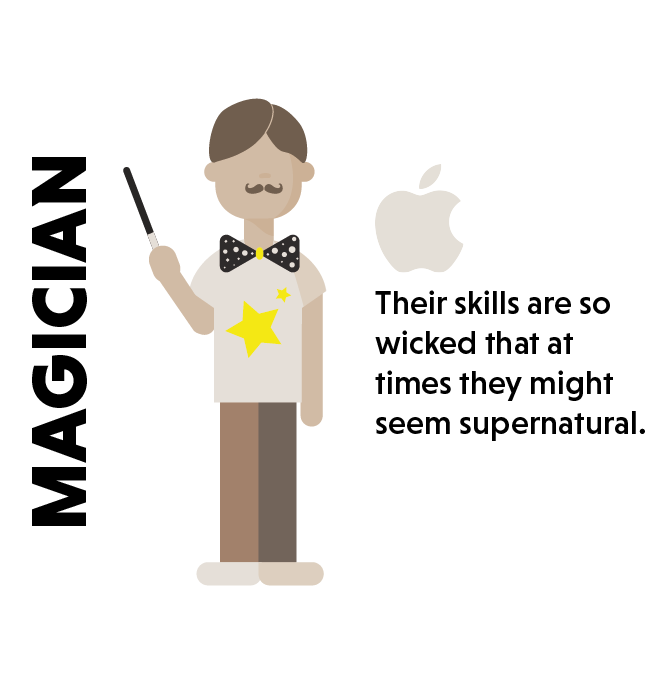 Brand voice: Mysterious, Imaginative, Reassuring, Knowledgeable, Visionary, Сharismatic.
Color palettes: Blacks, Grey, Whites, Purples.
Industries: Entertainment, Technology, Beauty, Well-being, Health
Magician brands: Disney, Dyson, TUI, Xbox, Apple

The Creator archetype
Creator brand archetypes have their own vision of the world. They want to make something special that allows others to get more out of their lives.
This brand archetype is innovative, imaginative, and playful in a sense. They are driven by self-expression and imagination and stay away from familiarity, being inauthentic.
The story of your brand is that with the help of your product or service, customers can become more creative, uncover their potential and feed their imagination.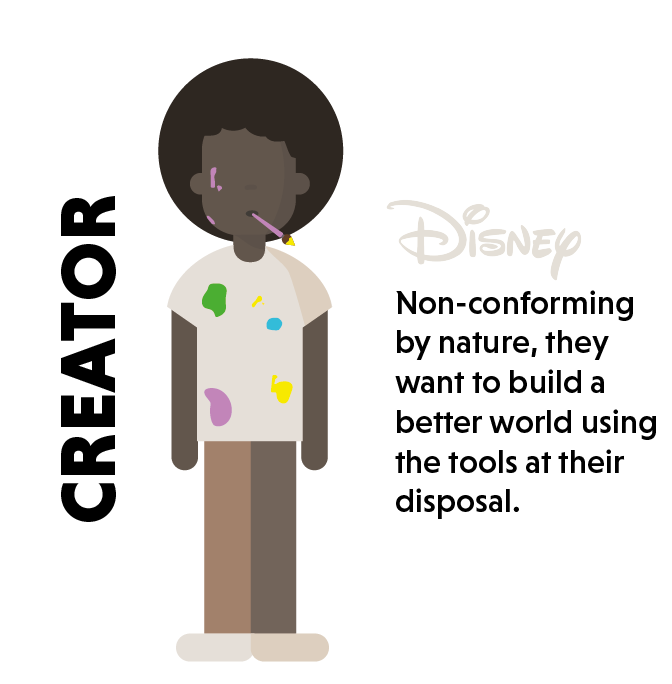 Brand voice: Inspirational, Slightly provocative, Passionate, Authentic, Perfectionist.
Color palettes: Reds, Yellows, Whites
Industries: Design, IT, Arts, Marketing, Creative writing
Creator brands: Adobe, GoPro, Lego

The Ruler archetype
Ruler archetypes crave power and control. They want a product that people will use for life. Rulers are leaders in their industry and do not care about competition.
They are often brands that speak little themselves, but let their products or services do the work. Excellent quality, stability, and enormous customer confidence.
Your visuals and voice should make people feel in control of their lives and that they, like you, are going to rule life.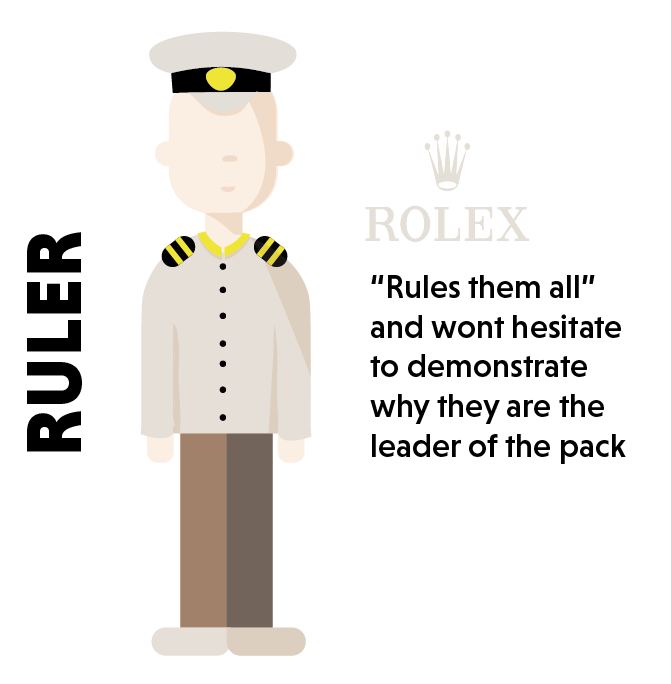 Brand voice: Refined, Commanding, Articulate, Higher class
Color palettes: Blues, Reds, Greens
Industries: Prestige cars, Hotels, Manufacturers of fine objects such as watches, High apparel, Any luxury or high-quality brands, Personal brand
Ruler brands: Rolls Royce, Microsoft, American Express.
The Lover archetype
The names of the archetypes are always well chosen and give a good indication of what to expect with the archetype in question. We associate this archetype with romance and passion.
It is keen to radiate joy in all areas and has a mission to help people feel connected and valued. Driven by sensuality and affection, they stay away from invisibility and rejection.
With this type of customer, you need to focus on the appearance of the goods you sell. Your ads should emphasize how it feels to use your product, and how attractive and special it will make them.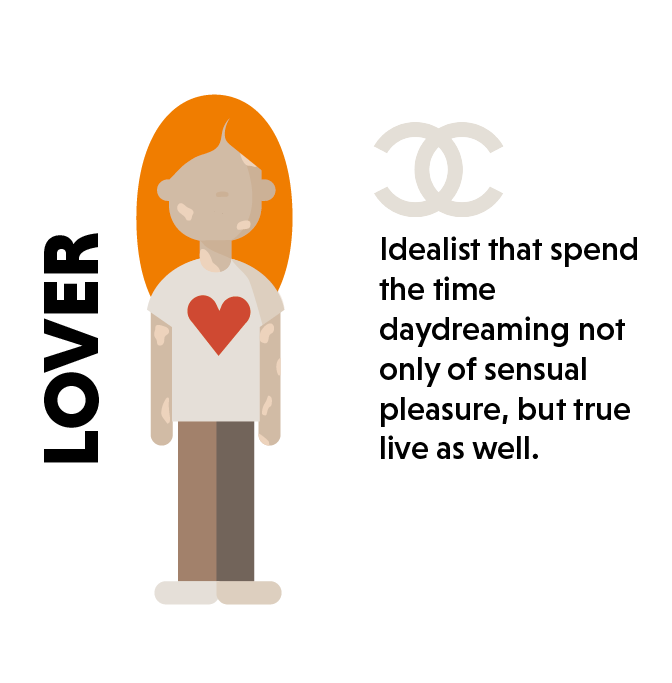 Brand voice: Passionate, sensual, intimate, romantic, warm, committed, idealistic
Color palettes: Reds, Pinks
Industries: Fashion, especially haute couture, Perfumes, Cosmetics, Wine, Chocolate, Exotic cars, Exotic travel
Lover brands: Victoria's Secret, Häagen-Dazs, Cesar, Chanel
The Caregiver brand archetype
Caregiver brands are empathetic and driven by the desire to help the less fortunate. They are therefore often seen as trustworthy. They offer help, service, and support and do not tolerate helplessness or blame.
You need to show clients that you care about their lives and feelings and assure them that you will be able to provide the necessary support.
Avoid overly patronizing or aggressive advertisements. You do not want to scare your customers with this, but rather play on people's emotions.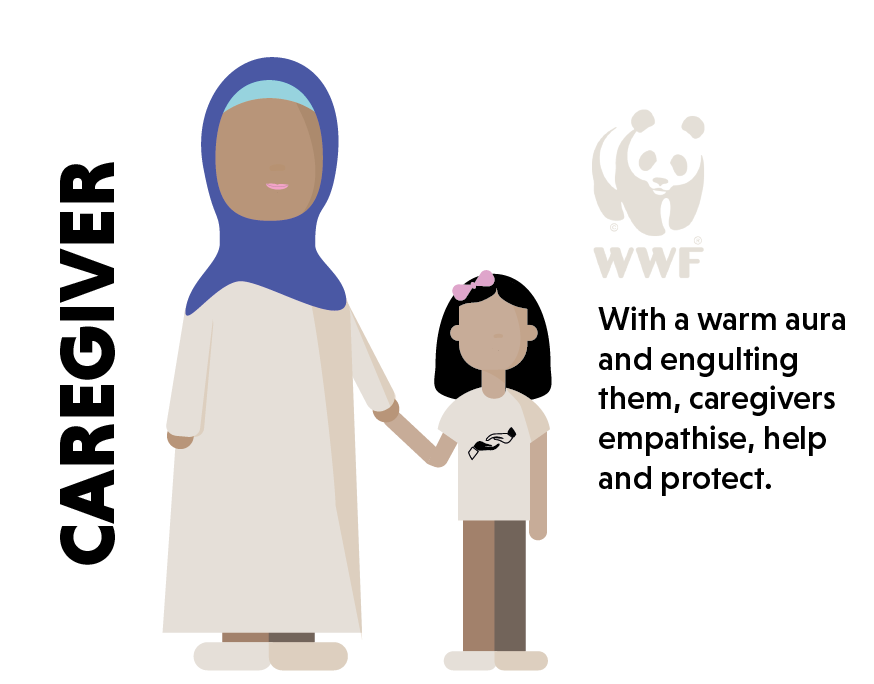 Brand voice: Caring, maternal, nurturing, selfless, generous, compassionate, warm.
Color palettes: Pastels, Soft blues, Pinks
Industries: Hospitals and medicine, Education, Nonprofits and charity appeals, Environmental organizations, Baby & pregnancy goods, Repair works
Caregiver brands: NSPCC, NHS, Heinz, Johnson's Baby, Campbell's Soup.
The Jester brand archetype
The Jester brand archetype lives for joy, always looking to bring a smile into someone's life. The mission of this brand is to tap into your inner child to lighten your mood. They are truly innovators.
Genuine epicureans, carefree and not limited by anything.
People who are attracted to the jester brand type are looking for entertainment and fun experiences. So make your ads and visuals that way too. Accentuate the humour and make it funny.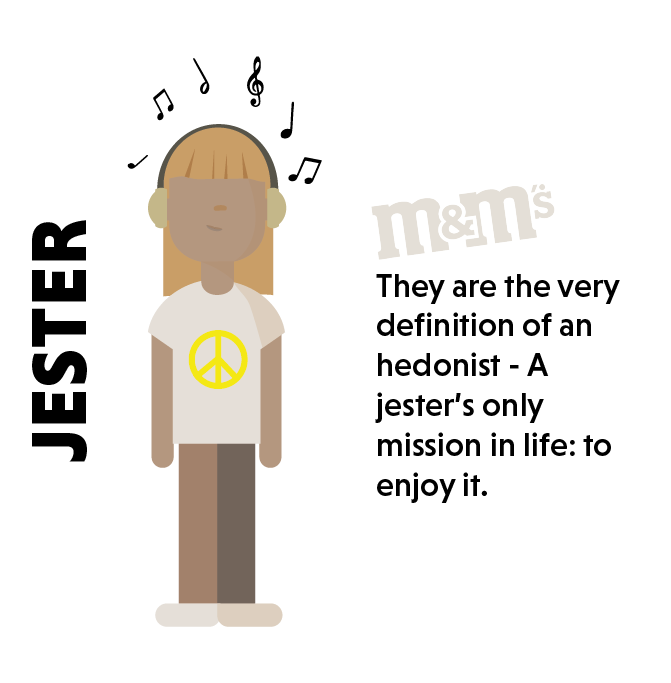 Jester brands: Fun, sense of humor, light-hearted, mischievous, irreverent, playful, optimistic.
Color palettes: Bright, fun, and eye-catching palettes.
Industries: Confectionary services, Child services, Beverage industry, Snacks, 'unhealthy' food
Jester brands: Cadbury's, Paddy Power, Budweiser, Fanta, M&M, Skittles.
The Sage brand archetype
The Sage brand archetype is always looking for wisdom and wants to share that wisdom with the world. Sages love to share their knowledge and insight and want to help people understand the world better.
These types of brands are often seen as trustworthy and encourage their audience to be like them.
The important thing here is often to appear intellectual and use a higher level of vocabulary. Of course, your target audience must also understand your message at all times, don't overdo it!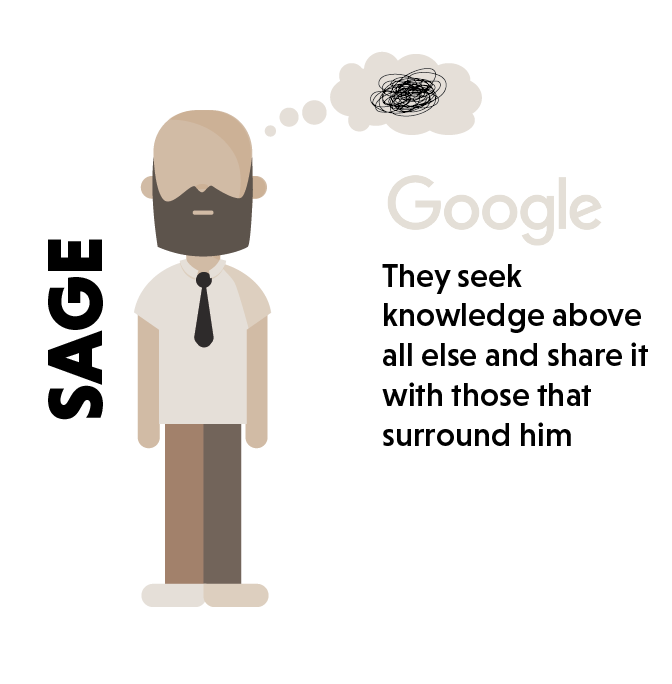 Brand voice: Knowledgeable, trusted source of information, wisdom and intelligence, thoughtful, analytical, mentor, guru, advisor.
Color palettes: Dark greens, Browns
Industries: Education, Media and news outlets, Schools and universities, Search engines, Software & tech
Sage brands: TED, The Economist, Discovery Channel, The Wall Street Journal, Intel, HP, CNN, Google
The Explorer brand archetype
The Explorer brand archetype is a true adventurer. They constantly seek out new experiences and avoid the boring in the world.
They are often brands that know how to challenge themselves and come up with extremely crazy ideas to put themselves in the spotlight. Their biggest fear is getting caught or being restricted.
As a brand, you use pretty big statements that take people along on your adventures and make them dream.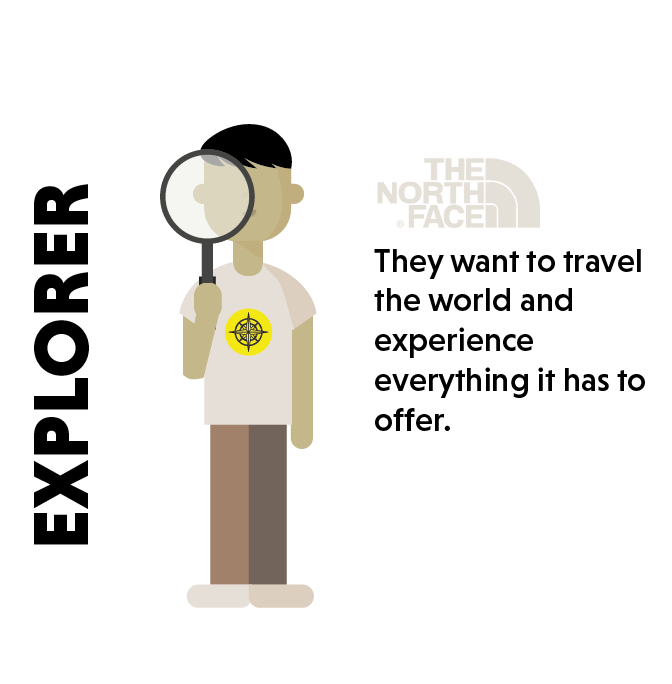 Brand voice: Restless, adventurous, ambitious, individualistic, independent, pioneering.
Color palettes: Greys, oranges, browns
Industries: Outdoor equipment, Automotive SUV category, Adventure traveling, Extreme sports
Explorer brands: Jeep, Red Bull, The North Face, GoPro.
The Outlaw brand archetype
Outlaw brands are true rebels. They care about rules and authority and want to disrupt the existing system to create something new, and better, ... in the marketplace.
They believe that change is only possible through some form of revolution and like to invite others to join them.
It is important to tell people how they will feel completely free if they join your brand. Try to make sure it is not the obvious promotion but look for something unique.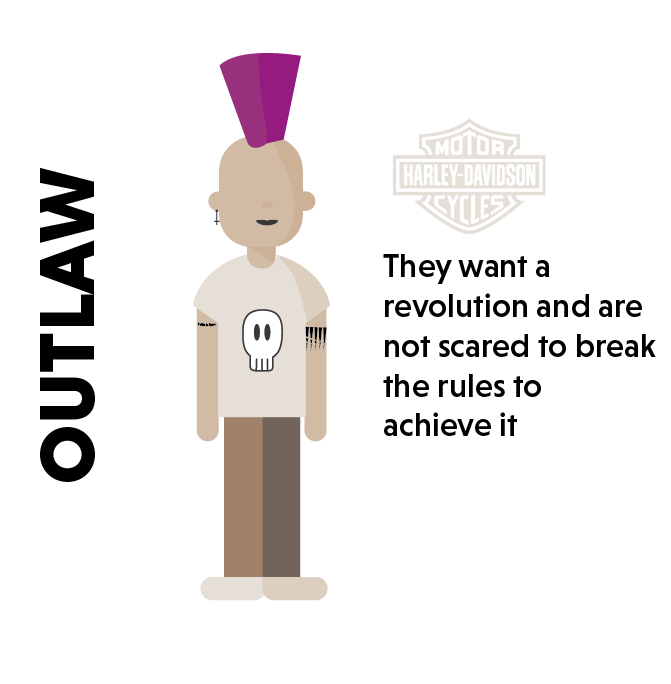 Brand voice: Rebellious, iconoclastic, wild, paving the way for change
Color palettes: Reds, Blacks
Industries: Automotive, Alternative apparel, Destruction tools, Men's cosmetics
Outlaw brands: Harley Davidson, Diesel, Greenpeace.
The Hero brand archetype
Who doesn't want their brand to be related to a superhero? These brands are driven by justice and want to improve the world with what they do.
These brands look very powerful, and brave and are never scared of a tough challenge. They are born to challenge others and get the best out of their target audience.
Focus your marketing around achievements and how you challenge your customers to become a better version of themselves. Make them feel like the hero in their own story by emphasizing personal achievements.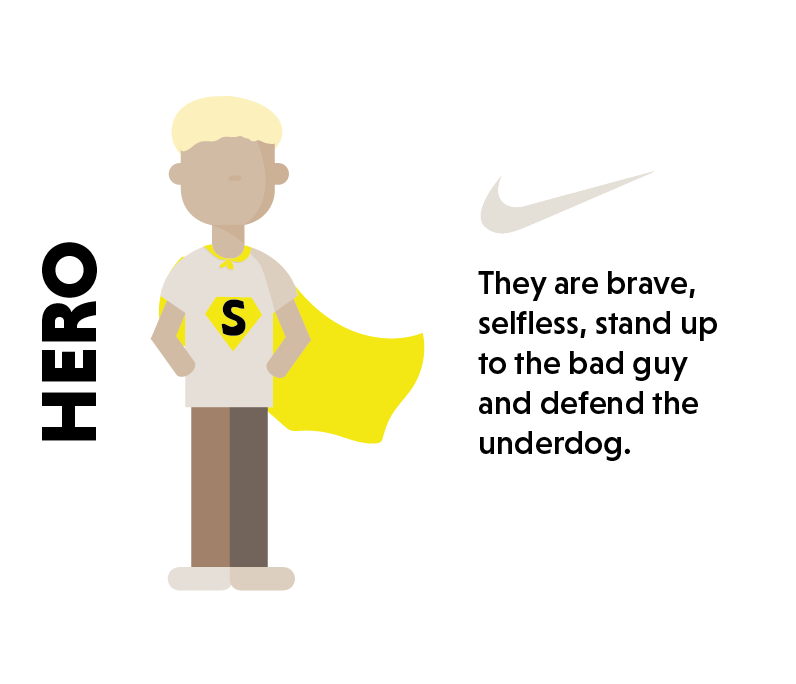 Brand voice: Courageous, bold, honorable, strong, confident, inspirational.
Color palettes: Bright blues, reds, and yellows.
Industries: Outdoor equipment, Sportswear, Emergency services such as electricity, mechanics, plumbing, etc., Video games
Hero brands: Nike, Red Cross, The SAS, Duracell
The Everyman archetype
The Everyman archetype is about connecting people, preferably even the masses. They disregard luxury and look for people who know what money is worth. Good quality and practicality is what really appeals to them.
Generally, they are companies that feel reliable and comfortable. After all, they rely on communities, preferably as many people as possible.
It is best to convey confidence in your message, preferably as inclusive as possible, race, body type, financial status, etc. it shouldn't matter!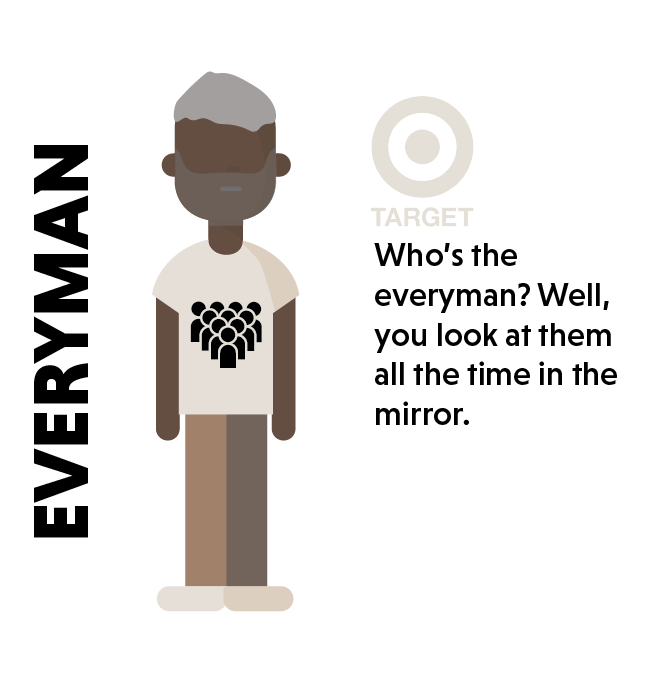 Brand voice: Down to earth, supportive, faithful, folksy, person next door, connects with others
Color palettes: Soft, desaturated palettes.
Industries: Everyday apparel, Homelife, Automotive family segment, Comfort food
Everyman brands: McCain, Tesco, Ford, Carling, Facebook, Levi's, GAP, Target
The Innocent brand archetype
Innocent people are keen to radiate happiness. Preferably as simple as possible, no big words, but radiating connectedness with family, friends, like-minded people, ...
Their mission is to spread real joy and love and thus to improve the, often cynical, world.
Emphasise family and friends, things that remind people of what they themselves consider important. Link the happiness of your customers as much as possible to your products and services, offering solutions to complex problems.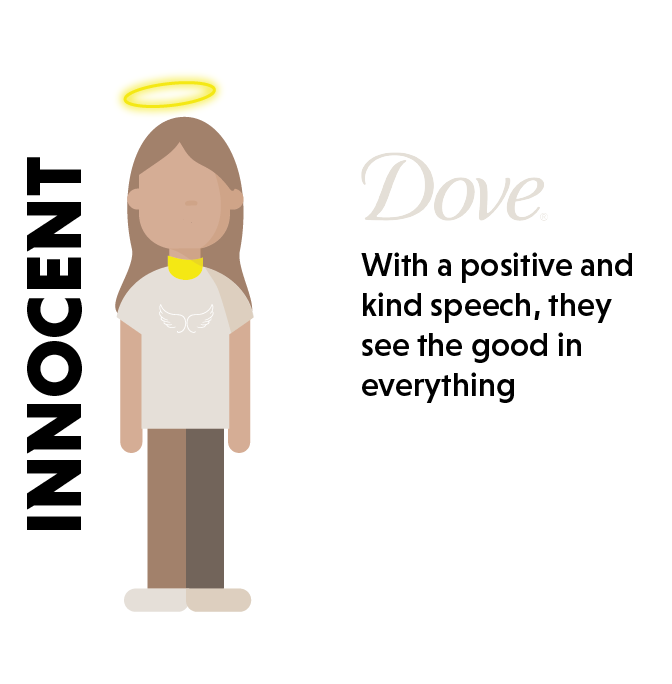 Brand voice: Strives to be good, is pure, young, optimistic, simple, moral, romantic, loyal
Color palettes: Bright colors, pastels.
Industries: Anything body and health-related, Organic products, Healthy lifestyle, Fresh food, Interior design
Innocent brands: Coca Cola, Innocent, Dove soap, Cottonelle bathroom tissue.